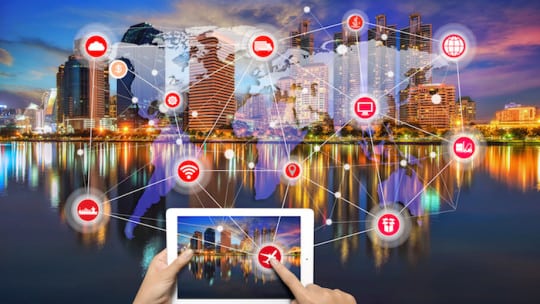 Another CES has come and gone and this year's show did not disappoint. From shooting star drone performances to an outdoor showcase of self-driving vehicles, breakthrough innovations that are shaping the future were on display across 2.75 million net square feet of space, reflecting a vibrant global tech industry.
The exciting week in Vegas brought countless product launches, celebrity appearances and, yes, even a massive blackout in Central Hall when the power went down momentarily. But if you were to zero in on a common theme that was evident across the exhibit halls, keynote speeches and panel discussions, it was connectivity and all things "smart." Without connectivity, nearly every innovation showcased—virtual reality, artificial intelligence, robotics, you name it—would be lifeless and considered anything but smart.
Let's take a look at where connectivity and smart innovations took center stage.
Smart Networks—CES made it clear that it's time to make way for 5G, a smart network technology that promises to be the future of connectivity and wireless communication. For those not familiar, 5G is 4G's younger, smarter, faster and stronger brother. It will be significantly faster than 4G, allowing for speeds of up to 10 Gbps, meaning users can download a two-hour-long movie on a mobile device in 3.6 seconds. 5G will be a collaborative smart network that combines the licensed (e.g., LTE cellular technology) and unlicensed (Wi-Fi and similar technologies) spectrum. And 5G is moving out of the lab and into the marketplace: The rollout of the technology is expected to be as early as this year, with more widespread coverage by 2020.
Smart Assistants—The growing ecosystem of artificial intelligence (AI) garnered much attention, specifically smart assistants like Amazon Alexa and Google's digital assistant. In 2018, we'll see the devices move beyond smart homes and make their way into cars, glasses and businesses. The experiences smart assistants offer are also evolving—Alexa alone is integrated into more than 4,000 smart home devices, with over 30,000 Alexa skills available to make communication with the assistant more seamless. Robotics were another hot AI topic. A few of my favorite robots included Aeolus, which vacuums and mops floors, and Savioke's Relay, which handles room deliveries at hotels.
Smart Cities—Global spending on Smart Cities is projected to reach $34.35 billion by 2020 as the tech industry helps develop connected communities that foster a better quality of life through energy conservation and more efficient public resources. Imagine traffic being a thing of the past and using drones for the seamless delivery of goods: All of this is possible in the smart city of tomorrow. CES put a spotlight on technologies that are helping connected cities come to fruition, highlighting the importance of the Internet of Things (IoT) and 5G networks. The keynote from Ford Motor Company's president and CEO Jim Hackett laid out his vision for a smart world and provided yet another example of how mobility is revolutionizing the way in which we live and work.
There's no doubt that CES 2018 proved how to get smart. The best in technology just got brighter—and it's going to be an exciting year.
Dr. Derek Peterson is CTO at Boingo Wireless, a leading provider of WiFi, DAS and small cell networks. He is responsible for Boingo's technical vision and strategy and is pioneering the adoption of the latest network technologies.