On Jan. 8, the annual tech extravaganza known as CES officially opened its Las Vegas doors to nearly 200,000 attendees from across the world. Now in its 51st year of operation, CES is more relevant than ever given it's the biggest global stage for companies to demonstrate what technology products and services are likely to be commercialized in the year ahead.
Beyond commercial interests, CES also provides an opportunity for company leaders to demonstrate a path forward to a brighter future for the tech industry, which has recently experienced an unusual backlash from a cross-section of audiences including influencers, policy makers, consumer advocates and investors within the U.S. and abroad. Given the range of critical issues—from individual privacy, personal safety, mental health and the integrity of our democratic principles—now facing big tech companies, CES 2018 represents a watershed moment for the tech industry to show how it can be a responsible leader in society.
My first impression of CES this year concerns security—an issue that gained greater urgency in the months following the deadliest mass shooting in modern history, which occurred mere footsteps away from the event. Event organizers have noticeably ramped up safety measures. Unlike last year, armed officers are stationed at the airport and public areas, canine patrols are inside and outside conference venues and official vehicle blockades have been set up at all major traffic points. While all this might help boost confidence among attendees, it has also worsened typical traffic congestion and hours-long wait times to get anywhere—at least some things stay the same at CES!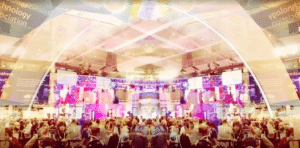 Traffic delays aside, the following is a short list of initial observations of top trends and issues on my mind at CES 2018:
Purpose. Brands are more driven than ever to demonstrate how their products and services are relevant to their audiences—and why those audiences should care. The ability to stand for something good and beneficial in our culture is far more important than simply showing a marginal improvement in features and functions. Consumers need a reason to believe.
UX. The way individuals can now explore multiple senses while using new tech products is on full display at CES. User experience winners will address the use case for when to use sight vs. voice vs. touch vs. gesture-based or even mind-controlled user experiences.
Intelligence. Any product, service or experience that can be improved by machine learning algorithms, deep learning or neural network sensing applications will be worth another look at CES. Artificial intelligence will continue to make headlines beyond CES, but examples of hardware or software improvements that improve human ability and intellect will matter the most.
Data security. People need to have confidence that the purchasing choices they make will in fact improve their ability to defend or advance their control over the security of their data. Safer is better.
Autonomy. Self-driving and self-learning machines that better serve people across modalities are receiving the most buzz this year. From robots that assist humans at home or in business, to virtual assistants that can be summoned with a voice command or a gesture, to app-based flying robo-taxis that will pick you up and take you wherever you need to go, autonomy as a service will be a game-changer in the years ahead for everyone.
To offer a glimpse of some of the technologies on display at CES, see my video highlight reel here.
Follow Rowan: @rowanbenecke
Rowan Benecke is the global chair of Burson-Marsteller's technology practice.