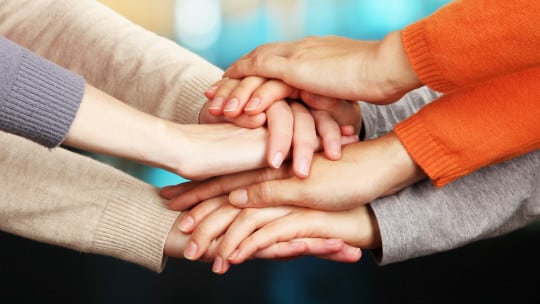 PR and marketing departments at B2B brands can reap benefits by providing busy sales teams with campaigns tailored to generate, encourage and cultivate prospects at every stage of the lengthy buying cycle. This entails providing sales with content that can be used to aid it duirng conversations with prospects as well as social media support to raise awareness and encourage engagement.
You Have Valuable Content – Use It!
The PR team I work with has a saying: "You might have written the best content ever, but if it doesn't get used, you may as well frame it and hang it on the wall."
If good media coverage and useful marketing content go no further, then businesses are achieving only a small part of what is possible.
Centralizing marketing content — press releases and media alerts, customer case studies, news and thought leadership articles, blogs, marketing flyers, white papers, even webinar recordings — is a critical step in breaking down departmental boundaries and encouraging a dynamic and integrated communications ecosystem.
Content often has a long shelf life; with a few tweaks it can remain relevant long after its creation. With that content in an easily navigable central repository — I call it an asset library — sales can easily find the material it needs on a case-by-case basis.
Internal communication is key in making content available to the sales team. The following can be used to nurture sales prospects: Short, snappy newsletters with fresh content, news bulletins highlighting stand-out media coverage and tweets to support company success. All these can help make sales aware that PR and marketing are resources to draw on to nurture their prospects.
You've now got your virtual travel case packed and are ready to support the prospect journey.
It's a Marathon, Not a Sprint
As you know, a B2B purchase can be a long process. I've experienced pitches lasting six months to upwards of three years before a contract is signed. Most marketers have heard the CEB statistic that 57% of the buying process is complete before a customer even contacts the supplier, and that marketing-sales consistency will come in handy during the last third of the journey. Still, it's our job to get prospects beyond the halfway point. To do that it's critical to know how senior executives in your audience prefer to receive information: 80% of B2B decision makers favor a series of targeted, bite-sized articles rather than a single, intrusive advertisement, according to GfK Roper Public Affairs and Media.
A content strategy is an effective tool to underpin marketing by exploiting the power of cognitive resonance – using different media to communicate the same message, regularly, building a consistent corporate narrative. Key news announcements, case studies, position papers and thought-leadership articles placed in industry media should carry unified core messages.
Cutting Through
This corporate narrative should also extend to social media. With 27 million pieces of content shared on social media every day, you need to craft your social media posts carefully. Every social update needs to be written to engage a target audience on a particular platform, taking into account how far along that person might be in the decision funnel.
Coherency, Consistency and Cultivation
These are just a few simple tactics that can bring together the often-separate sales, marketing and PR departments. By establishing a company position, producing content tailored for prospects at different stages of the buying cycle and consistently pushing those messages, blockages in the decision funnel can be removed.
Jon Brown is an engagement specialist at IBA International.  jbrown@iba-international.com